THE NON-AROMATIC SOLVENT INK
With the latest technology and our accumulated experience, we created an exceptionally fast setting ink using environmental-friendly materials
RELIABLE FOR HIGH PILING
Using new materials, we have developed a high-performance ink that allows excellent setting without losing the gloss, thus we have created an unprecedented piling ability.
STABLE HIGH-GRADE PRINTING
The special qualities of the new materials have greatly enhanced the drying (setting) capacity of the ink and the stability on the printing machines, allowing stable, high-quality printing over a long period.
FRIENDLY TOWARDS THE ENVIRONMENT
IRIS Van was developed to meet both the needs of the time and also with concern for the global environment. It uses a new type of environmental-friendly solvent.
RADAR CHART SHOWING PERFORMANCE OF "IRIS VAN" INK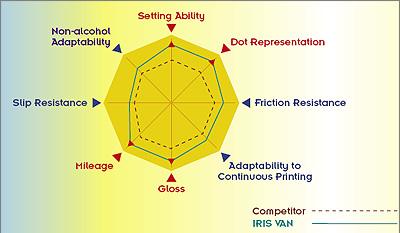 IRIS Van is certified by Japan Food Hygiene Association for not detecting (less than 0.5ppm) the following metal contents: Antimony, Arsenic, Barium, Cadmin, Lead, Mercury & Selenium.